Before, we dive right into the details of the session, I would like for my readers to get to know me. This is Sahil Shah here. I am the CEO and founder of Netsavvies. I graduated as an engineer and later expanded my career into the field of digital marketing by establishing this agency. Design has always interested me very keenly and I strongly feel that a user's experience should matter at the very core for every business. Therefore, in 2014, Netsavvies was established as a design driven digital marketing agency. After working with clients and projects from varied areas, I was recently invited at Dehradun Institute Of Technology to deliver a lecture on the topic 'UI/UX in the time of Internet'.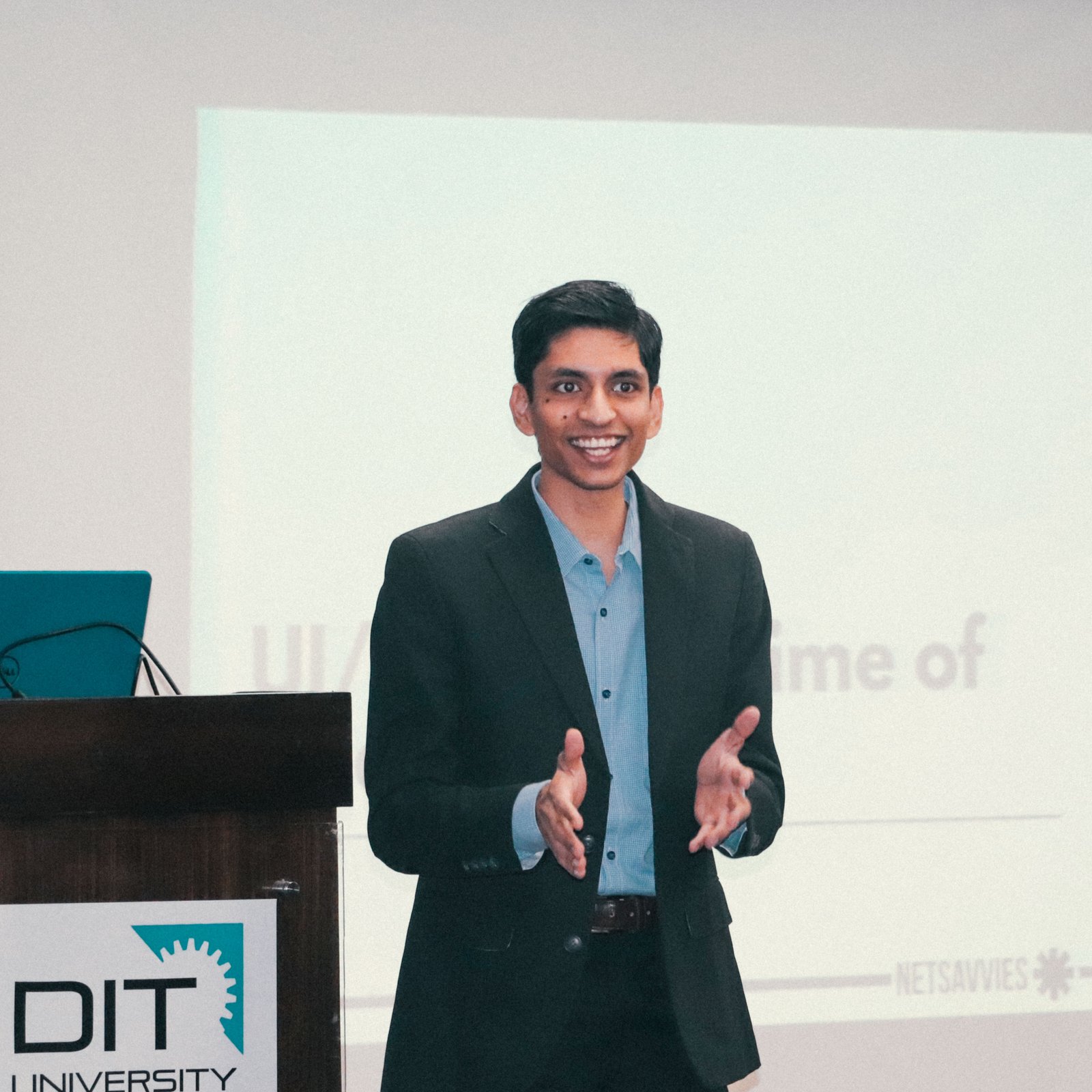 The session was quite propelling and covered the two concepts wholly from explaining its basics, the evolution in UI/UX, roles and trends in the industry.  User Interface and User Experience are different concepts and work together closely for an overall experience. User interface places a focus on the development of softwares and working with the aspects of design that lay a primarily focus on the looks and style. User experience aspect lays a functional focus, the usability and works on providing relevant and meaningful experience to the users.
User Interface is often seen as a subset of  User Experience. It is crucial for these two elements to work closely so that there is an appropriate sync between what the users see, what they feel and what they experience. A proper overall sync of UI and UX ensures that your brand's message gets translated into a good design and for it to work consistently with the brand persona.
The arena of product design differs from UI/UX through the core that for a product design, more focus is laid on the business' s requirements and how they want to convey their product to the users/consumers. For UI/UX, this primary focus changes with a primary and greater aim on looking at the design from the user's point of view. and if their requirements are being met. A product design focuses on overall working process of the product and the UI and UX focus on the usability part of the product.
There has been a stark evolution in how several products have advanced with time. This example shows us how the evolvement in UI/UX design has changed the dynamics and has caused a shift in the users of a desktop, advancing to a laptop and later to a smartphone device.
Later, I placed an emphasis on the importance of basics of design that one must be thorough with:
It included the concepts of:
White space,
Colour contrast,
Visual hierarchy,
Design simplicity,
Consistency
and Scale.
The general etiquettes and website conventions specify guidelines for logo placement, link styling, button functionality, visual hierarchy and more.
Students were also briefed about colour psychology with an explanation for 'blue' being used as the colour for major social media platforms like Facebook, Twitter and LinkedIn.
The session progressed with an explanation of evolution of the platforms like Facebook, Google and other social media platforms. 'Material design', a design platform offered by Google, explains how users can focus on elements like colour, typography and buttons to create a user friendly design.
The evolution of Apple Iphone is also an example of the progression in UI/UX.
Products like Google glass, Facebook home, Mobile ESPN and Amazon fire phones are examples of product failure due to bad design.
Touching upon the process to get started in the field of UI/UX design, I explained that one needs to learn the basic principles of design, dwell into the process and then move ahead with designing fake projects, paying attention to design trends, trying to replicate good designs and actively seeking feedback upon the same.
One should also consider using the following tools:
Considering the future, trends and growth in the UI/UX industry, the following models provide an insight into the different roles and future career prospects for the same:
What are some useful insights for you to take away?
Do you have any specific queries regarding the concepts of UI/UX?
Connect with us on:
Facebook,
LinkedIn,
Twitter