Mr. Sahil Shah, the founder of Netsavvies, was a panelist at a recent session organised by eChai and Innocity by Centre for Innovation, Incubation and Entrepreneurship. He spoke on the topic of 'Digital Marketing Strategies For Startups' along with Mr. Pratik Dholakiya, Founder, The20Media.com and Mrs. Krishna Singh, Co-founder- Social Krossroads. Mr. Jatin Chaudhry was the moderator for this insightful discussion.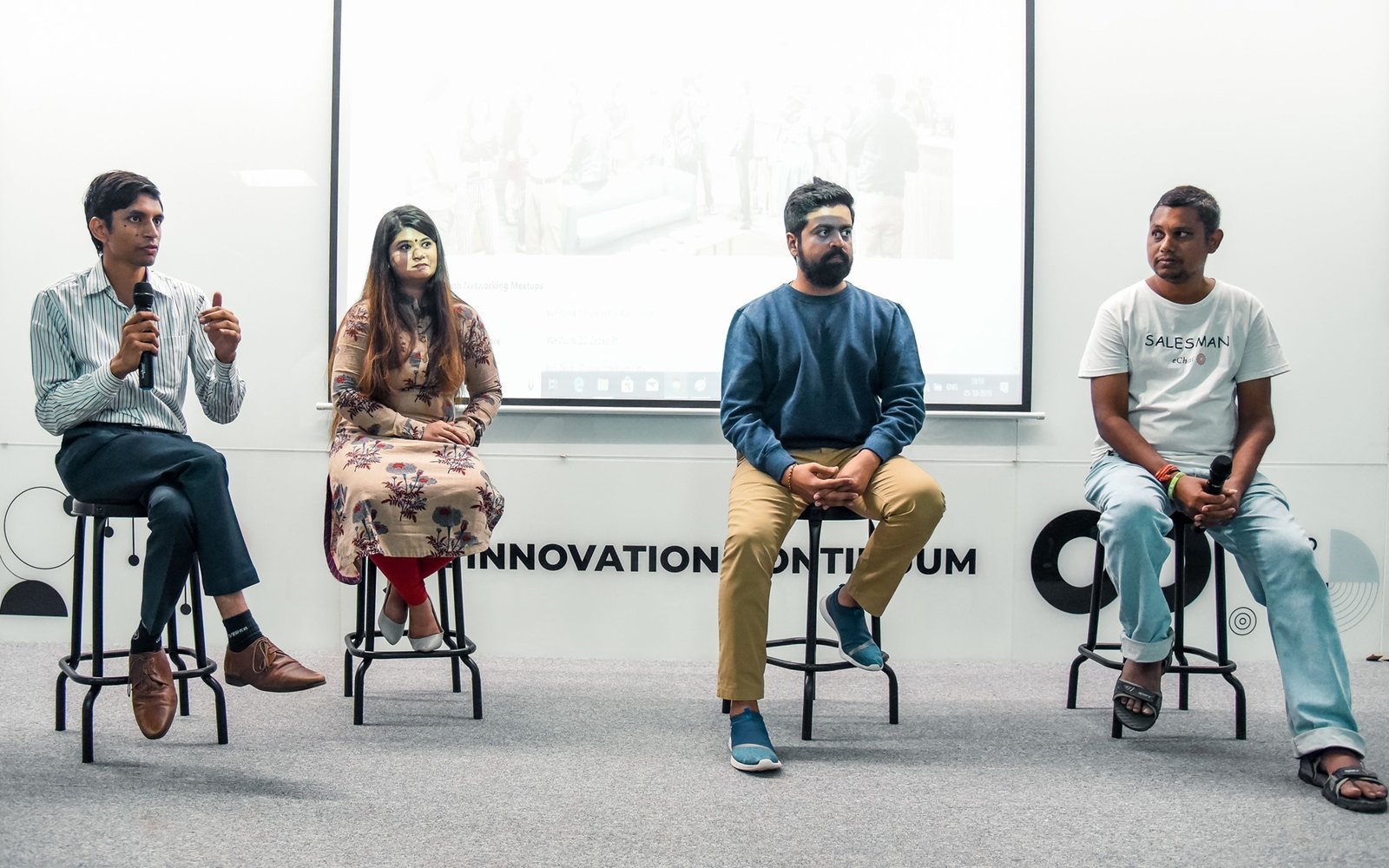 eChai is a leading platform functioning in India and other countries. They organise and conceptualise programmes on entrepreneurial topics. They host varied programs like eChai Demo Days, eChai RoundTables, and eChai challenges. eChai sessions have also been organised in Colombo, Singapore and Thimpu. The session of "Digital Marketing Strategies for Startups" was organised by Centre for Innovation, Incubation and Entrepreneurship at  Indian Institute of Management, Ahmedabad on 5th October,2019
The session was organised in order to focus on the growing segment of digital marketing. The talk aimed on discussing further how Startups can formulate and use digital marketing strategies for a better focused digital marketing approach. The audience of 50+ enthusiastic attendees were quite engaged in the Q&A session and offered some wonderful insights through the conversations.
Some of the discussions that followed were:
On SEO practices:
Queries regarding the Search Engine Optimisation metrics brought about a conclusion that earlier, it was possible to optimise SEO, with spamming techniques such as stuffing the keywords and irrelevant link building. But times have evolved now and the metrics now work on a content driven basis. In conclusion, relevant and good content is what matters and speaks aloud.
Further on this discussion, Mr. Prateek Dholakiya compared Google to a restaurant in order to provide better insights and understanding to the audience. He referred how Google tries to provide the best results to a consumer who searches for something in the same manner as a restaurant provides the best of its' dishes to its customers.
On the importance of relevant content:
A member from the audience wondered how there are a few websites that function slowly, but still manage to gather traffic and rank very well?
In this regard, Mr. Sahil Shah expresses his insight by continuing Mr. Prateek's example of a restaurant. He feels how some of the most known dishes of a restaurant are most preferred, inspite of a longer preparation and waiting time. It works that way, because it is the output quality that matters in order to engage the audience. You commit to providing something good and you will seek people who are willing and ready to wait for it.
On Marketing Approaches:
Mrs. Krishna Singh further briefed about how bigger brands formulate marketing plans using a wide and diverse marketing approach. She previously worked with radio and is now a part of the digital marketing industry since three years. Gathering from her experiences and learnings, she explained that for specific kind of marketing campaigns and targets, brands tend to focus on a 360 degree marketing approach. Mrs. Krishna talked about how using radio adds as a growth multiplier and using it with other mediums gives a multiplier effect. She pointed out how online and offline marketing efforts should be combined in order to target all kinds of audience and derive a worthy output. Mediums like print, radio, TV, bicycle ads, online formats etc need to be combined for catering to a larger group.
On Strategies For Specific Sectors:
Later, the audience inquired about the strategies that would work for the health care and the automation sectors.
The panelists suggested that content driven strategies would be the best approach for the health care sector. Doctors could provide testimonials, some guidance with remedies and other content that is informative and helpful for the audience. These kind of approaches can also project the practicing doctor as someone approachable and more reliable.
For the automation sector, Mr Sahil Shah suggested that the application TikTok should be used. The companies and brands can provide videos with content that is a explainer for the parts used in their products. TikTok is a very progressive app in the current times and informative educational content works quite well on it.
They also brought about the necessity of consistency to be followed for these practices. In the fast pacing world of the internet today, when there is an overload of information for the audience, it is important to have a share of their attention span and that is to be achieved by consistency.
The session was very fruitful and kudos to Mr. Jatin Chaudhry and Mr. Swarup Pandya.