So you've built your app, put it up on various app stores and now you're waiting for users to download your app. There are over 5 million mobile apps are available, and 25% of downloaded apps are never used after installation. Hence, this task of increasing downloads can get pretty overwhelming. So here we have listed down 6 ways you can promote your app on social media and a solid great social media image to increase your app download. Along with this, you can use these methods to engage with your current users and potential users.
Here are 6 ways you can promote your app on social media:
Leverage User-Generated Content
Use Visual Content
Start using Pinterest
Get together with Influencers
Paid Ads
Contest & Offers
Leverage User-Generated Content
User Generate content or UGC can be one of the most effective tools for community building and relationship building. It can be a quick way to establish trust and engage with your audience.
You can encourage your users to share their review of your app on social media and tag you in it. Then you can share it on your own channels. As reviews and rating role in over 90% of purchase decisions, it's fairly unlikely that people try anything online without checking the reviews or star rating first. So, you can leverage content made by users to promote your app.
UGC is an incredible way to market your app. It will become highly impactful when you use it to its full capacity. Sharing UGC on your channel in diverse and engaging ways will keep your audience excited. As a result, it will be easier to build relationships and trust.
Use Visual Content
Humans are visual creatures, over 90% of the information transmitted to the brain is visual. Also is the case is with social media. Too much of written content can backfire and show up as laxity in brand engagement. You can never go wrong with the use of creatives, videos, graphs, infographics and other types of visual content for your app. The key is to keep the visuals simple and emotionally engaging. While Facebook users devour 100 million hours of video every single day, about 82% of Twitter users watch video on that particular medium.
Visual content helps brands get their message across in a precise and engaging fashion. For this reason, visual content has gone from a "nice-to-have" to a must-have vehicle for marketing messages.
You can stand out with the help of well designed and crafted visuals. Put your efforts into delivering quality over quantity, and users will start recognizing you as an authentic and valuable resource, relevant to their interests.
Start using Pinterest
In basic terms, Pinterest is a virtual pinboard where users "pin" things to categorized boards. You can customize your boards specifically to you and your business, as well as search the platform for keywords.
One of the most amazing thing about Pinterest is its visibility. If you had pinned your own content months ago, it would still be getting traction, unlike Instagram and Facebook where after a time you won't get engagement on your posts. Consider a case where you pin your blog post and then one of your followers pin it to their board. And say that they have more than 300 followers, so your content will reach to a whole new audience because your follower re-pinned you.
Now, you see there are around 93% pinners shopped online. This means you have a great opportunity to promote your app on Pinterest and get more downloads.
Get together with Influencers
Influencer marketing can be a great way to reach new potential users. One of the main advantages of Influencer marketing over paid advertising is that Influencer marketing brings loyalty to the factor. The followers of the influencers look up to the influencer for recent trends and lifestyle patterns.
You could tie-up with an influencer and as them to promote your app in a way that seems organic, For example, they could share a video of them using the app and how much they like the app.
Influencer marketing is the best, generally in light of the fact that it tells to a story and us – as individuals – we find stories valuable that we can identify with. Not all influencers are great for your app; you have to search for the ones who are incredible storytellers. The influencer should introduce your app nearly as a piece of life with the goal that the intended interest group can relate themselves to your app.
All in all, influencer marketing is an evergreen strategy. Even if you don't have a huge budget, you can take advantage of influencer marketing to promote your mobile app in a strategic way.
Paid Ads
This is one of the most direct ways to promote your app. But you need some amount of investment to promote your ads. There are many platforms you can promote your ads
1. Facebook Ads
Facebook is an amazing user acquisition channel for mobile apps. It is currently the world's most popular social network as of March 2019 (with over 2.38 billion monthly users on the platform). Facebook gives you an ever-expanding pool of potential app installs across all types of users. With this level of diverse users who span over different languages, geographies, demographics, and interests, Facebook gives mobile professionals the ability to access sophisticated target audiences. The below chart from Statista demonstrates Facebook's tremendous potential for connecting users with mobile apps.
Twitter app install ads are still far from being a top mobile user acquisition channel for developers, however, if you're looking to diversify (and it seems this is the case for a lot of people right now, stirring away a bit from Facebook) there are some really interesting aspects in Twitter ads.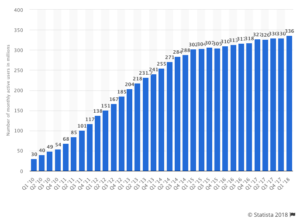 Twitter's Monthly Active Users volume doesn't compare with Facebook but is still significant
Twitter doesn't have the same growth as other social media platforms, but it's been around for a while and it feels like it's coming back stronger.
Contest & Offers
Keep your app users hooked by offering incentives and special trials using contests. Such reward-based activities can also be a great method to acquire new users. You can combine this method with other ways like influencer marketing and paid ads on media. For example, you can also get an influencer to do this contest for your app or you can promote the post with the content on social media.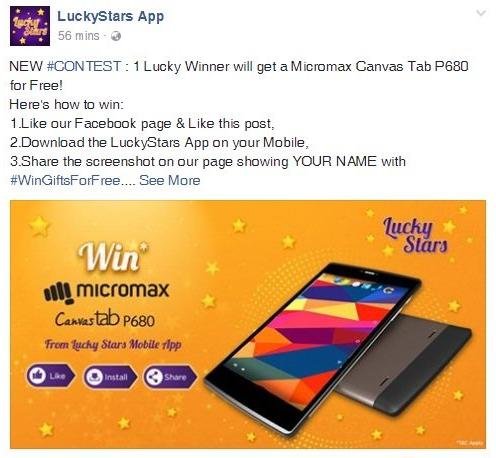 You can also integrate this contest with your website and you can use it to increase your social media followers.
A great contest not only helps in engaging present app users but also increases app usage, gets new downloads and aids upselling of virtual goods & content.
Final Thoughts

Promoting your app on social media opens up a whole new method of engaging with your current users and reach potential users, Social media can take your app and your branding to a whole another level is done right and on a consistent basis.
Need help with promoting your app?
Netsavvies Media Co. has expertise in Social media marketing, Mobile App marketing Graphic designing and Event marketing. We believe in fostering creativity and provide unparalleled client satisfaction. Contact us for any queries and details regarding Digital marketing.